DAYTONA BEACH, Fla. (AP) — Jusan Hamilton fell hard for fast cars, dreaming as a kid of a NASCAR career as he drove at dirt tracks in New York. He contended for wins, kept pace with top drivers as he bounced from series to series and trusted his talent enough to know that he could succeed as a professional driver.
What Hamilton didn't see as his family traversed around tracks were other kids that looked like him. And while a dearth of minorities didn't deter him from racing, it did lead other friends and family to wonder what he was doing with his time each weekend.
"Why does an African-American kid from upstate New York have an interest in motorsports?" Hamilton said he was often asked.
The answer was simple, based less on breaking barriers and blazing trails, and more about simply pursuing his passion.
"For me, it was, this is what I enjoy," Hamilton said. "This is what I love doing. There's a huge connection with me and my family to go to the race track each weekend and spend the time together."
The 31-year-old Hamilton did make it in racing, not in a driving career that petered out -- to a great degree because of the financial strain on his family -- but behind the scenes for over a decade in NASCAR. He has worked in event production, social media, shepherded the series' Drive for Diversity program (that rejected him as a teen) and eventually was named race director for NASCAR's three national series.
On deck, his milestone moment: Hamilton is set to become the first Black race director in Daytona 500 history and only the third since 1988. He will watch from a booth overlooking the sprawling track and call the shots on everything from cautions to penalties to the clean-up crew, navigating the complexities of the race in the official debut for NASCAR's Next Gen car.
"It's not necessarily about being the first Black man to call the Daytona 500," Hamilton said. "Career-wise, it's a huge accomplishment for me, with the passion I've had for motorsports. Bigger picture, I hope it sets a positive example for others that, regardless of race and background, if you work hard and have a mindset toward your goal, it is achievable."
NASCAR's broadened diversity initiatives have made strides over the last decade, as the stock car series tries to bust traditional stereotypes and reflect all genders, ethnic groups and backgrounds.
"I've always felt welcome," Hamilton said. "I didn't think the perception was the reality of working here. I do think in the last two years, that was the right time for the company to make its internal stance, that I've always felt, known to the public. I think we've taken huge steps in our public perception."
Bubba Wallace, who last season became the first Black driver to win a Cup Series race since 1963, has become the face of NASCAR's diversity push. Wallace, who won driving for a team co-owned by NBA Hall of Famer Michael Jordan, found his voice as a catalyst for change and led the successful push for NASCAR's 2020 ban of the Confederate flag.
He's not alone as a person of color paving a new path in NASCAR. Take a look around the garage at Daytona and multicultural audiences are represented in a wide range of jobs.
Jesse Iwuji, a lieutenant commander in the Navy Reserve, will become the second fulltime Black driver this season with plans to run in the second-tier Xfinity Series. Iwuji co-owns his team alongside Pro Football Hall of Famer Emmitt Smith, who enters NASCAR a year after Jordan and entertainer Pitbull joined the ownership ranks. Pitbull co-owns a team that has Mexican driver Daniel Suarez.
Floyd Mayweather Jr. has a car that will attempt to qualify for the Daytona 500, as does NY Racing, a team owned by Black entrepreneur John Cohen.
"Jesse, he's been grinding so hard to make this work for him and being a dream for him, something he wanted to do when he retired from the armed forces, was really cool," Wallace said. "That's just him having the right people around him and helping him succeed. As far as industry leaders like Jusan, it's really cool that he's a voice that we hear out here for a race director."
Noah Gragson raced his way into the Daytona 500 on the strength of team owner Linda Beard and Beard Motorsports. Busch Light announced this week it was "seizing the opportunity to make historic progress toward gender inclusivity" and committed $10 million to sponsor every 21-and-older female driver in NASCAR over the next three years. Among the familiar names expected to benefit from the "Accelerate Her" program include Xfinity Series driver Natalie Decker and Truck Series veteran Jennifer Jo Cobb.
Cohen has an ownership career that included five drivers and 17 starts from 2012 to 2018. He recruited Greg Biffle for his NY Racing team for a run at Daytona as an open car and secured sponsorship from Grambling State University. The 46-year-old Cohen credited NASCAR President Steve Phelps for his role in shifting racial attitudes within the industry.
"I got stories, you know what I mean," Cohen said. "It's different for me than a Michael Jordan. It's a trap. People don't know who I am. Even if you know he's a NASCAR owner, you'll still respect him because he's Jordan. I'm talking about security, talking about fans, talking about everybody. It's just a different feel for me than it would be for him."
Just maybe, not so far down the road, the days of the good-ol'-boy Southern attitudes will truly become extinct.
"People have this perception that it's not really for you," Hamilton said. "I hope that by what I'm doing, the next age group that's coming up and has an interest like I do, they don't get those sideways looks and those questions of why. It's more something that shows, yes this is achievable. Someone has set an example and the pathway is there. If this what you want to do, by all means pursue the goal and you get that kind of support."
(BBR) Nearly six-in-ten Black adults (58%) say supporting Black businesses, or "buying Black," is an extremely or very effective strategy for moving Black people toward equality in the United States. While Black-owned businesses in the U.S. have grown significantly in recent years, they still make up a small share of firms and revenue in the country, according to a Pew Research Center analysis of Census Bureau data.
In 2020, there were an estimated 140,918 U.S. firms with majority Black or African American ownership, up 14% from 124,004 in 2017, according to the latest available data from the Census Bureau's Annual Business Survey (ABS). Those firms brought in an estimated $141.1 billion in gross revenue in 2020, an 11% increase since 2017.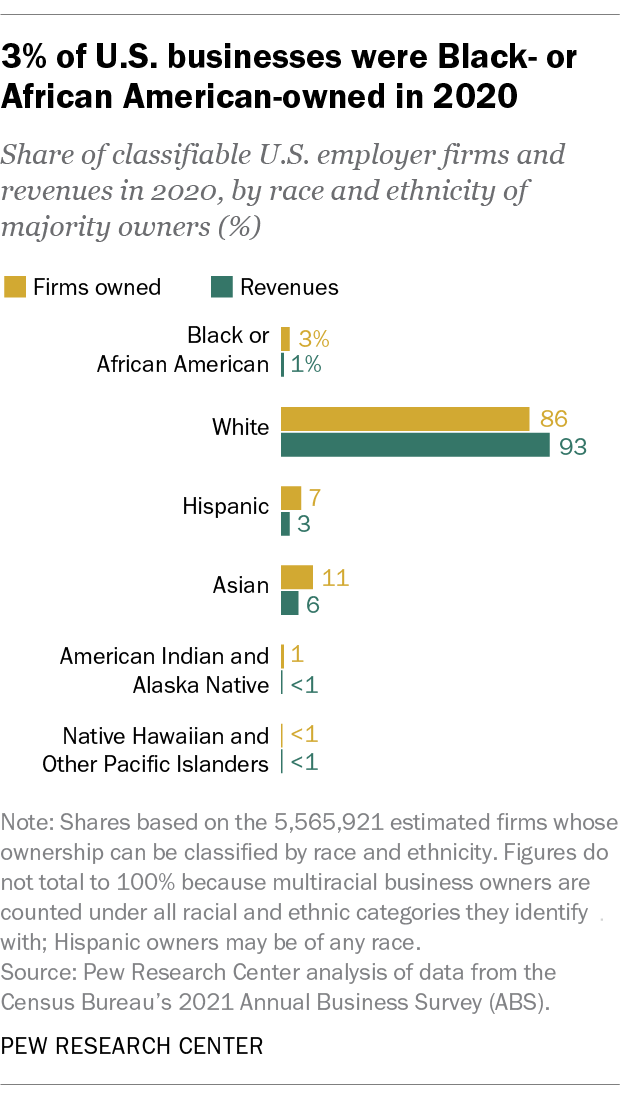 Despite this growth, businesses majority-owned by Black or African American people accounted for only 3% of all U.S. firms that were classifiable by the race and ethnicity of their owners in 2020. And Black-owned firms accounted for just 1% of gross revenue from classifiable companies that year. By comparison, Black adults comprised 12.4% of the overall U.S. population in 2020, according to the Census Bureau.
As has long been the case, White Americans accounted for a large majority (86%) of firms whose ownership was classifiable by race and ethnicity in 2020. These firms brought in 93% of all revenue from classifiable companies that year.

U.S. firms with Asian majority owners accounted for 11% of all classifiable firms and 6% of revenue in 2020. Those majority-owned by Hispanics accounted for 7% of classifiable companies and 3% of revenue.
It's important to note that not all U.S. businesses are classifiable by the race or ethnicity of their owners. A business is classified as "majority Black-owned" if a Black owner has at least 51% equity in the firm. (The same is true for business owners of other racial and ethnic backgrounds.) In 2020, only about 4% of all businesses in the U.S. were not classifiable by the race and ethnicity of their owners – but these firms accounted for 62% of total revenue. For that reason, ownership and revenue figures in this analysis refer only to the roughly 5.6 million firms that are classifiable by the race and ethnicity of their owners, most of which are smaller businesses.
Smaller payrolls common at Black-owned businesses
Majority Black- or African American-owned firms provided income for more than 1.3 million workers in 2020, with overall annual payrolls at these businesses totaling an estimated $42.2 billion that year.
Most Black-owned businesses have relatively small payrolls. Roughly two-thirds (66%) had fewer than 10 employees in 2020; 14% had 10 to 49 employees and just 3% had 50 or more. (In the ABS, employment size is determined by the number of paid workers during the March 12 pay period each year, which coincided with the start of the U.S. coronavirus outbreak in 2020. During that 2020 pay period, an additional 17% of majority Black- or African American-owned firms reported no employees.)
For most Black or African American business owners in the U.S., their firm is their main source of income. Among those who reported data about their primary source of personal income in 2020, 69% said their business was their primary income source, while 31% said it was not, according to ABS data.
Black-owned businesses are more common in health care sector and in certain states
The greatest number and share of majority Black- or African American-owned businesses are in the health care and social assistance sector. In 2020, more than 38,000 of the nearly 141,000 U.S. companies with majority Black or African American ownership, or 28% of the total, were in this sector.
Looked at a different way, 7% of all classifiable U.S. businesses in the health care and social assistance sector had Black or African American majority owners that year.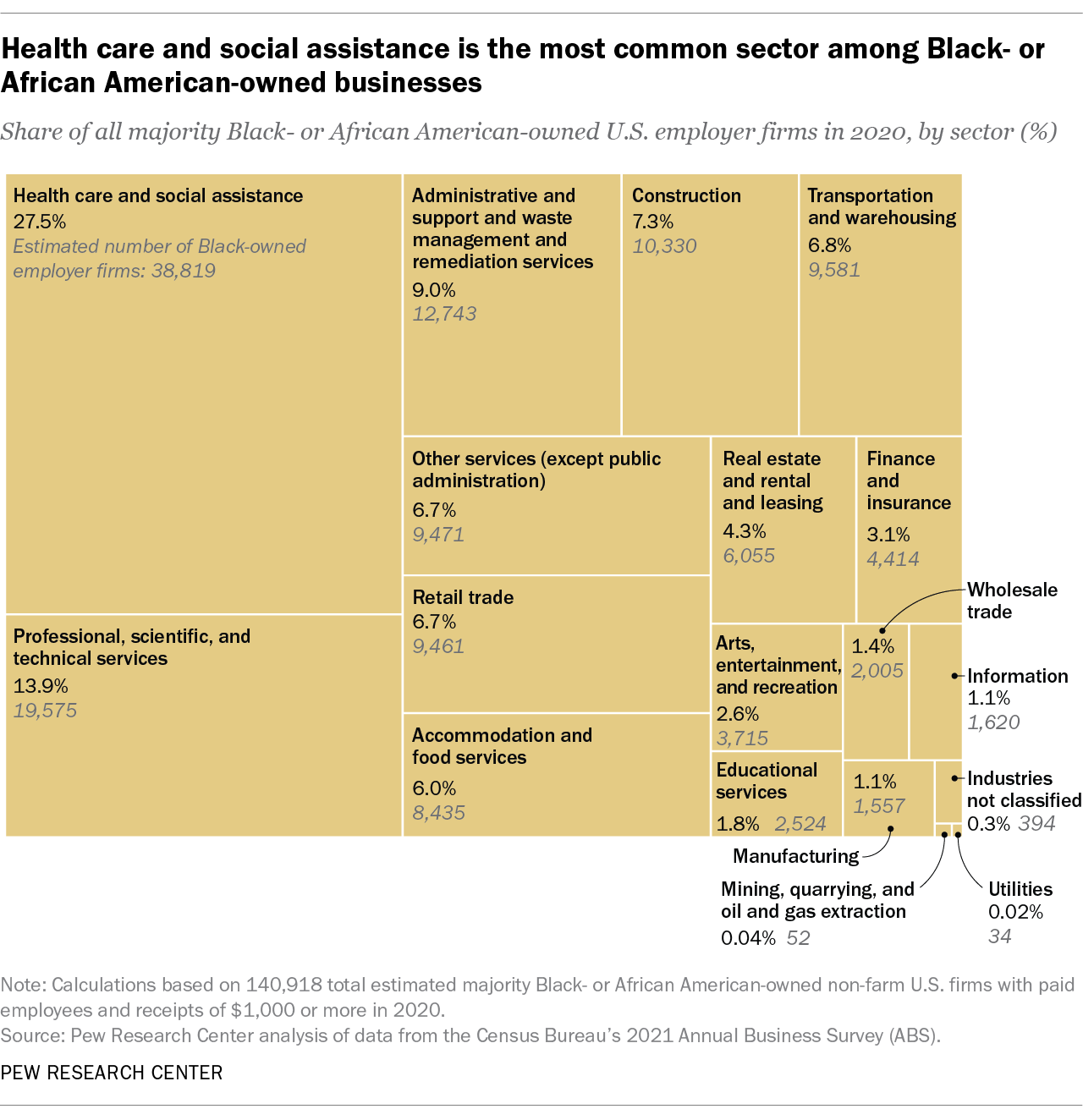 Professional, scientific and technical services was the second-most common sector, accounting for 14% of majority Black- or African American-owned businesses in 2020. Other common sectors included administrative and support and waste management and remediation services (9%) and construction (7%).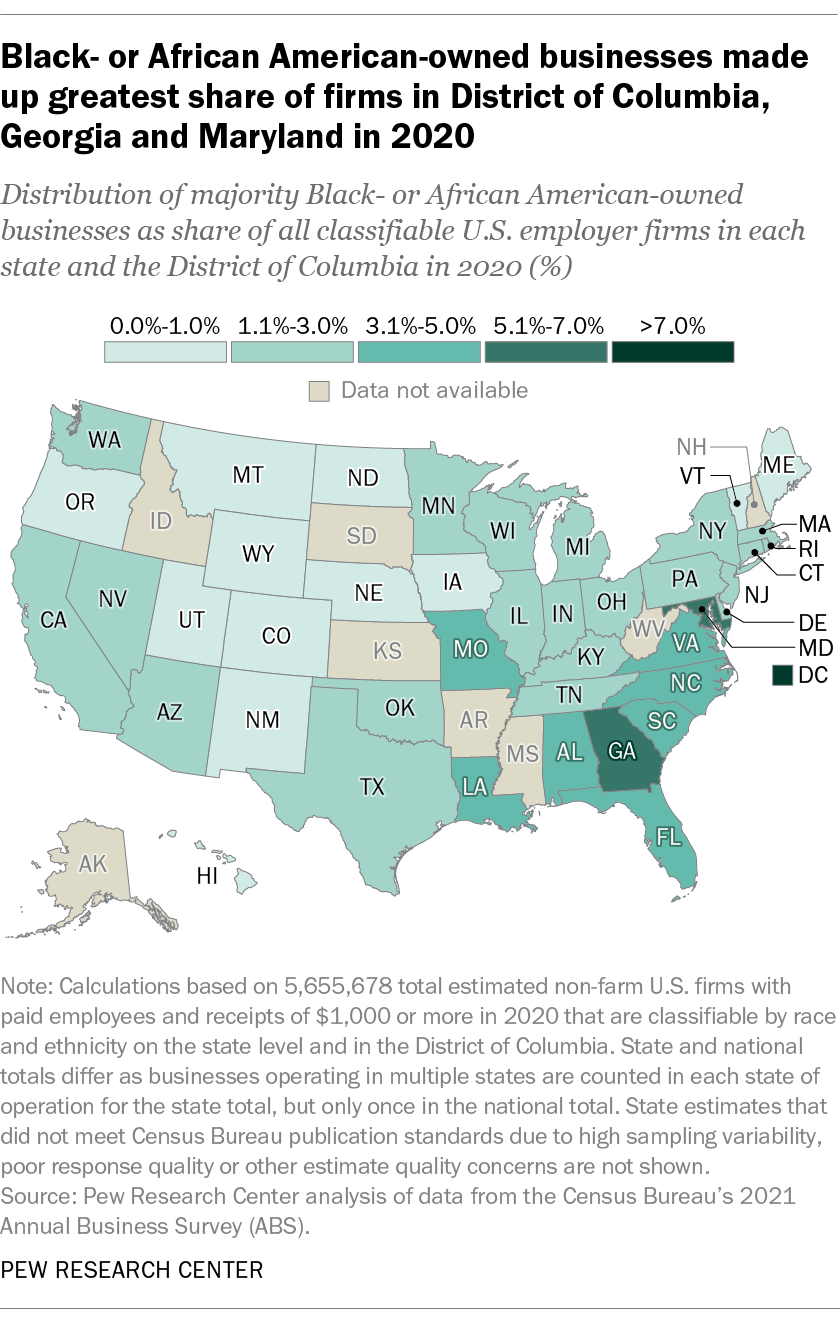 An overwhelming majority (88%) of Black- or African American-owned businesses are located in urban areas. Just 6% are in rural areas – that is, places with fewer than 2,500 inhabitants, under the Census Bureau's definition. Three of the four most populous states also lead in the number of estimated businesses with majority Black or African American ownership: Florida had 15,149 such businesses in 2020, California had 13,729 and New York had 12,636. But majority Black- or African American-owned businesses made up the greatest share of all classifiable firms in the District of Columbia, Georgia and Maryland.
More than half of Black business owners are men
The gender divide among all U.S. business owners extends to Black or African American business owners, though by a smaller margin. Among all U.S. firms whose ownership is classifiable by gender, 63% were majority-owned by men in 2020, while 22% were owned by women and 15% had equal male-female ownership that year. By comparison, 55% of majority Black- or African American-owned businesses in 2020 had male owners, while 37% were owned by women and 8% had equal male-female ownership.
Roughly half (52%) of Black or African American business owners who reported their age grouping were 35 t0 54 in 2020; an additional 25% were ages 55 to 64. A majority of those who reported their educational background had an undergraduate degree or more education. About a quarter (26%) had a bachelor's degree, and another 34% had some form of degree beyond a bachelor's.
(BBR) In a momentous leap towards progress and equality, the United States Marine Corps has achieved a significant milestone with the appointment of General Michael Langley as its first Black four-star general. This historic event not only marks a triumph for General Langley but also stands as a testament to the Marine Corps' commitment to diversity and inclusion within its ranks.
General Langley's journey to this esteemed position has been characterized by dedication, resilience, and exemplary leadership. His rise through the ranks serves as an inspiration to countless individuals, regardless of their background, reaffirming the principle that hard work, skill, and determination can shatter barriers and pave the way for groundbreaking achievements.
Langley's achievement is a significant step forward in the Marine Corps' ongoing efforts to foster an environment that values diversity and promotes equal opportunities for all its members. His appointment highlights the organization's commitment to recognizing and promoting talent irrespective of race, thereby setting a powerful example for other branches of the military and institutions worldwide.
This groundbreaking accomplishment holds profound implications for the broader context of American society. General Langley's ascension to the rank of four-star general challenges preconceived notions, dispels stereotypes, and underscores the importance of embracing diversity in all aspects of public service. His success sends a resounding message: the United States Armed Forces are committed to reflecting the rich tapestry of the nation they serve and protect.
General Langley's achievement also serves as a source of pride and inspiration for the African American community, showcasing that barriers can be broken, and ceilings shattered through unwavering determination and exceptional performance. His story resonates far beyond the military sphere, reminding everyone that no dream is too grand, and no goal is unattainable with hard work and perseverance.
Furthermore, General Langley's appointment is a significant stride towards building a more inclusive future for all individuals, irrespective of their race, color, or creed. It reinforces the idea that diversity is not just a buzzword but a cornerstone of a thriving, harmonious society. By recognizing and celebrating the talents and capabilities of individuals from all backgrounds, societies can tap into a wealth of perspectives, ideas, and experiences, fostering innovation, understanding, and unity.
In conclusion, General Michael Langley's groundbreaking achievement as the Marine Corps' first Black four-star general is a momentous occasion in the annals of American military history. It signifies not only a personal triumph but also a collective victory for diversity, equality, and inclusion. His story serves as a beacon of hope, illuminating the path towards a future where merit knows no boundaries and where every individual has the opportunity to rise, excel, and make history.
(BBR) Maryland, a state known for its rich history and diverse culture, boasts a plethora of hidden gems. Among these treasures, Cuples Tea House stands as a shining beacon, drawing tea enthusiasts and casual sippers alike into its inviting embrace. What makes Cuples Tea House the best tea shop in Maryland? Let's delve into the myriad reasons that set this establishment apart and make it a true haven for tea lovers.
1. A World of Tea Expertise: Cuples Tea House isn't just a tea shop; it's a sanctuary for tea connoisseurs. Lynette and Eric Dodson, the passionate minds behind the venture, have immersed themselves in the art and science of tea. Their extensive knowledge and dedication to sourcing the finest tea leaves from around the world ensure that every cup served is a masterpiece. From delicate white teas to robust black brews and aromatic herbal infusions, the shop offers a curated selection that caters to every palate.
2. Unparalleled Ambiance: Walking into Cuples Tea House is akin to stepping into a tranquil oasis. The cozy interior, adorned with subtle, tasteful decor, exudes an ambiance of warmth and sophistication. The aroma of freshly brewed tea fills the air, inviting patrons to linger and savor the moment. The shop's layout, designed with care and attention to detail, provides intimate corners for meaningful conversations and communal tables where strangers become friends over shared pots of tea.
3. Community at Its Heart: More than just a tea shop, Cuples Tea House is a vibrant community hub. It serves as a gathering place for locals and visitors alike, fostering connections and friendships. The Dodsons have cultivated an environment where inclusivity and camaraderie thrive. Regulars and newcomers find solace in the welcoming atmosphere, where conversations flow as freely as the tea. It's not merely a place to buy tea; it's a space to create memories and form bonds.
4. Innovative Events and Experiences: Cuples Tea House goes above and beyond in crafting unique experiences for its patrons. From themed tea parties and educational workshops to live music events, the shop constantly surprises and delights its guests. The Dodsons' passion for tea extends beyond the confines of their establishment, as they organize off-site tea tastings, ensuring that the community can enjoy their exquisite blends in various settings.
5. Commitment to Quality and Sustainability: At the heart of Cuples Tea House is a dedication to quality and sustainability. The tea served is not just a product; it's a testament to ethical sourcing and environmentally conscious practices. The Dodsons work closely with tea estates and growers who prioritize sustainable farming methods and fair labor practices, ensuring that every cup aligns with their values and ethics.
In conclusion, Cuples Tea House stands as Maryland's best tea shop not only for its exceptional teas but also for the genuine passion and unwavering dedication of its founders. It's a place where the art of tea-making meets the art of community-building, creating an experience that lingers in the hearts and minds of all who step through its doors. For tea enthusiasts seeking more than just a beverage—a genuine, enriching experience—Cuples Tea House is the ultimate destination, where the simple act of sipping tea becomes a memorable journey.
OUR RETAIL LOCATION
(BBR) Introduction
Earvin "Magic" Johnson Jr., a name celebrated on the basketball court, has transcended his sports legacy, becoming a powerful force in the business world. Known for his exceptional skills and charisma in basketball, Magic Johnson has made a significant mark in the entrepreneurial landscape, venturing into various industries and, most recently, becoming a part of a group that acquired the NFL's Washington Commanders. This article explores Magic Johnson's entrepreneurial journey, his impact on urban communities, and his recent venture into NFL team ownership.
Early Life and Basketball Career
Born on August 14, 1959, in Lansing, Michigan, Magic Johnson's rise to prominence began during his college years at Michigan State University. He played a pivotal role in leading the Michigan State Spartans to the NCAA championship in 1979. Magic later joined the Los Angeles Lakers in the NBA, where he won numerous championships and became one of the most celebrated players in the league's history.
Transition to Business
After retiring from professional basketball in 1991, Magic Johnson didn't rest on his laurels. Instead, he shifted his focus to the business world, leveraging his fame, influence, and keen business acumen to create a successful empire.
Magic Johnson Enterprises
In 1987, Magic Johnson founded Magic Johnson Enterprises (MJE), a conglomerate company that focuses on various business sectors, including entertainment, healthcare, real estate, and hospitality. Through MJE, Magic Johnson has invested in and co-owned numerous businesses, showcasing his dedication to empowering urban communities and promoting economic growth.
Theaters, Starbucks, and Real Estate
Magic Johnson's entrepreneurial journey includes ventures that have transformed communities and inspired change. He partnered with Sony Pictures to develop Magic Johnson Theatres, strategically located in underserved urban areas, providing entertainment options and employment opportunities. Additionally, his partnership with Starbucks led to the establishment of stores in ethnically diverse neighborhoods, enhancing economic development and access to quality products and services.
Magic Johnson's prowess in real estate is equally remarkable. His strategic investments have revitalized urban areas, creating jobs and improving living conditions for residents. His focus on sustainable development has played a significant role in transforming neglected neighborhoods into thriving communities.
Acquisition of Washington Commanders
Most recently, Magic Johnson made headlines by reportedly joining a group that acquired the NFL's Washington Commanders. This move underscores his expanding influence in the sports ownership realm and signifies a new era for the team. His involvement not only promises innovative strategies for the Commanders but also reinforces his commitment to community development and empowerment.
Conclusion
Magic Johnson's journey from a basketball icon to a successful entrepreneur and now an NFL team owner exemplifies determination, vision, and the power of giving back. His commitment to empowering urban communities, fostering economic growth, and creating opportunities for others has left an indelible mark on both the business and sports worlds.
Magic Johnson continues to inspire generations, proving that with dedication and vision, one can achieve greatness both on and off the court. His legacy as a businessman, philanthropist, and advocate for positive change serves as a beacon of hope for aspiring athletes, entrepreneurs, and community leaders, reminding them that dreams can be realized with hard work, perseverance, and a strong sense of purpose.
(BBR) In a world often dominated by unrealistic beauty standards, natural black women continue to stand tall, breaking barriers and redefining what true beauty means. Their power lies not only in their physical appearance but also in their unwavering strength, resilience, and unapologetic embrace of their natural selves.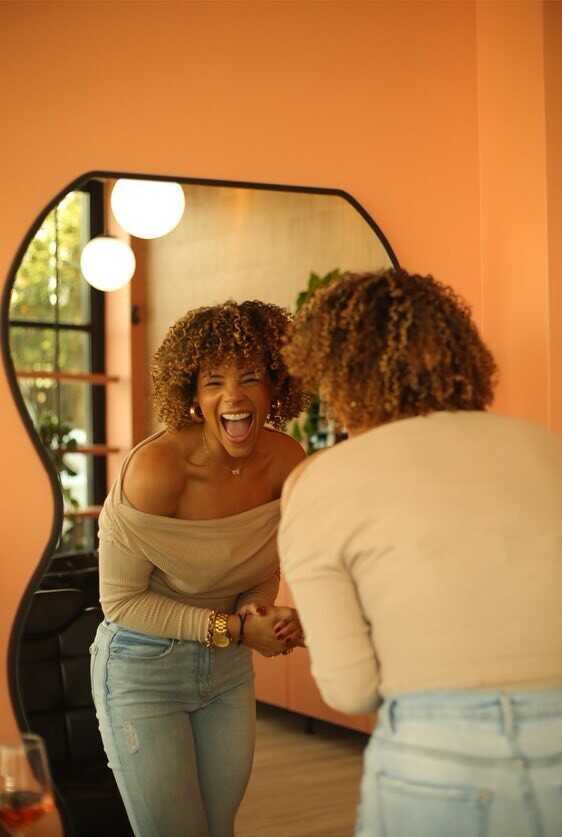 1. Embracing Authenticity: Natural black women proudly showcase their natural hair, which comes in a myriad of beautiful textures and styles. From tight coils to flowing curls, each hair type is a testament to their unique heritage and individuality. By embracing their natural hair, black women reject societal pressures to conform and instead, celebrate their true selves.
2. Cultural Richness: Natural black women carry with them a rich cultural heritage that spans across continents and centuries. Their roots trace back to diverse traditions, languages, and customs, making their identity a tapestry woven with stories of resilience and strength. This cultural richness is a source of pride, connecting them to their ancestors and inspiring future generations.
3. Strength in Diversity: Natural black women come in all shapes, sizes, and shades, showcasing the incredible diversity within the black community. This diversity is a testament to the strength of their heritage and the beauty that exists in every shade of melanin. It challenges harmful stereotypes and promotes inclusivity, encouraging acceptance and understanding among people of all backgrounds.
4. Resilience: Throughout history, black women have demonstrated unparalleled resilience in the face of adversity. From fighting for civil rights to breaking barriers in various fields, they have shown immense strength and determination. Their ability to rise above challenges inspires others and exemplifies the power of perseverance and courage.
5. Cultural Influence: Natural black women have significantly impacted various aspects of culture, including art, music, fashion, and literature. Their creativity and innovation have shaped global trends, enriching the world with their unique perspectives and talents. From iconic hairstyles to influential fashion statements, their cultural influence is both profound and enduring.
6. Educational Advocacy: Natural black women are at the forefront of educational advocacy, promoting the importance of representation in classrooms and textbooks. Their efforts to bridge educational gaps and provide equal opportunities empower future generations to pursue their dreams and aspirations, regardless of their background.
In essence, the power of natural black women lies not just in their physical attributes but in their ability to inspire, uplift, and empower. Their journey towards self-love and acceptance serves as a beacon of hope for individuals striving to embrace their authentic selves in a world that often demands conformity. As society continues to recognize and celebrate the diverse beauty of natural black women, it paves the way for a more inclusive and accepting world for everyone.
(BBR) Building a successful business requires immense dedication, strategic planning, and a thorough understanding of potential pitfalls. Unfortunately, not every entrepreneurial venture achieves the desired level of success. Business crashes can occur due to various factors, and it is crucial for entrepreneurs to identify and address these issues to prevent a catastrophic outcome. In this article, we will explore the top ten reasons behind a business crash and provide insights on how to avoid them.
Poor Financial Management:
One of the primary reasons businesses fail is inadequate financial management. Entrepreneurs must maintain accurate financial records, understand cash flow, and allocate resources efficiently. Failing to keep a close eye on finances can lead to excessive debt, insufficient working capital, and an inability to meet financial obligations.
Lack of Market Research:
A lack of understanding about the target market can be disastrous. Entrepreneurs must conduct comprehensive market research to identify their customers, analyze competitors, and anticipate market trends. Neglecting this crucial step can result in developing products or services that do not meet customer needs, leading to poor sales and eventual failure.
Ineffective Marketing Strategies:
Even with a remarkable product or service, a business can crash if it fails to reach the right audience. Ineffective marketing strategies, including a lack of brand visibility, poor messaging, or an inadequate online presence, can hinder business growth. It is essential to invest in targeted marketing campaigns and utilize various channels to engage with potential customers.
Ignoring Customer Feedback:
Customers are the lifeblood of any business. Ignoring their feedback and failing to adapt to their needs can lead to a significant downfall. Regularly soliciting customer opinions, addressing complaints, and continuously improving products or services based on feedback is crucial for long-term success.
Poor Leadership and Decision-making:
Strong leadership is imperative for guiding a business to success. Poor decision-making, lack of vision, or an inability to adapt to changing circumstances can lead to a business crash. Entrepreneurs should foster a culture of open communication, encourage collaboration, and surround themselves with competent team members who can provide valuable insights and expertise.
Failure to Innovate:
In today's dynamic business landscape, failing to innovate can quickly render a company obsolete. Industries evolve rapidly, and businesses must adapt to stay competitive. Neglecting to invest in research and development, failing to introduce new products or services, or being resistant to change can result in losing market share to more innovative competitors.
Insufficient Scalability:
A business crash can occur if a company fails to scale its operations effectively. Rapid growth without proper planning and infrastructure can lead to inefficiencies, customer dissatisfaction, and operational failures. Entrepreneurs should anticipate growth and have robust systems in place to support expansion.
Lack of a Strong Team:
No business can succeed without a competent and motivated team. A lack of skilled employees, poor team dynamics, or high turnover rates can hinder productivity and impact overall business performance. Building a strong team, investing in employee training and development, and fostering a positive work environment are essential for sustained success.
Inadequate Risk Management:
Entrepreneurs must identify and mitigate risks to ensure long-term business sustainability. Failure to assess potential risks, including economic downturns, technological advancements, or changes in regulations, can have severe consequences. Developing contingency plans and regularly reassessing risks can help mitigate their impact.
Inadequate Adaptation to Technology:
In today's digital age, businesses that fail to embrace technology may find themselves at a significant disadvantage. Adopting outdated systems, neglecting to leverage digital marketing tools, or lacking an online presence can limit growth potential. Embracing technology and staying abreast of industry trends is essential for remaining competitive.
Conclusion:
While building a successful business is challenging, understanding and addressing the reasons behind business crashes can help entrepreneurs avoid common pitfalls. By maintaining sound financial management, conducting market research, developing effective marketing strategies, prioritizing customer feedback, fostering strong leadership, encouraging innovation, scaling operations efficiently, building a competent team, managing risks, and embracing technology, entrepreneurs can enhance their chances of long-term success. Remember, learning from mistakes and continuously adapting are key elements of a resilient and thriving business.
(BBR)   Have you ever heard the phrase "living rent-free in your head"? It's often used to describe people who we can't seem to stop thinking about, even if they are no longer a part of our lives. These people can be ex-partners, former friends, or even people we never actually had a relationship with. They take up space in our minds, and we can't seem to evict them.
So, who is still living in your head rent-free? Is it an ex-partner who you can't seem to forget? Or perhaps it's a friend who hurt you in the past. Whatever the case may be, it's important to understand why these people are still occupying your thoughts.
One possibility is that you haven't fully processed the emotions associated with the person. Maybe you were hurt by them and never had the chance to fully express how you felt. Or perhaps you have unresolved feelings for them and haven't been able to let go.
Another possibility is that you are holding onto the past. You might be romanticizing a past relationship or friendship, and not seeing it for what it truly was. You may also be afraid of moving on and creating new relationships.
It's important to recognize when someone is living rent-free in your head, and take steps to evict them. This might mean confronting your emotions and talking to someone about how you feel. It might also mean making a conscious effort to focus on the present and future, rather than dwelling on the past.
Ultimately, the people who are living in your head rent-free are taking up valuable mental real estate that could be better used for positive thoughts and experiences. By acknowledging their presence and taking steps to evict them, you can create more space for positivity and growth in your life
(BBR)  Sysco, a leading global food distribution company, has recently welcomed Antwon Edwards as their new Transportation Training Manager. Edwards comes with a wealth of experience, having spent 8 years as a Transportation Manager with DHLs where he made significant contributions to the company's success. He was instrumental in implementing the first in-house CDL exam class and became certified within Maryland to do so.
But his contributions to the transportation industry don't end there. Edwards co-founded the Always Available CDL Permit Program, which helps adults learn the permit book by reading it to them and answering any questions they may have. This program has helped many aspiring drivers overcome the hurdles of obtaining a CDL permit and has contributed to reducing the driver shortage crisis in the industry.
But Edwards' dedication to the community doesn't stop with his professional career. He spends his free time volunteering at the Center of Urban Families for second chance adults, where he helps people with resume writing and the single dad program. He understands the importance of giving back to the community and has made it a priority in his life.
In addition to his passion for helping others, Edwards also enjoys fishing and smoking cigars. These hobbies allow him to unwind and recharge after a long day, and he often shares his catches with his colleagues at Sysco.
As the new Transportation Training Manager at Sysco, Edwards brings with him a unique skill set and a commitment to excellence. He understands the challenges faced by drivers and is passionate about developing training programs that can help them overcome these challenges. With his experience in implementing in-house CDL exam classes and co-founding the Always Available CDL Permit Program, Edwards is well-equipped to lead Sysco's transportation training efforts.
In conclusion, Antwon Edwards' appointment as Sysco's Transportation Training Manager is a significant development for the company and the transportation industry. His passion for helping others, dedication to the community, and experience in the industry make him an ideal candidate for the role. We can expect to see great things from Edwards in the coming years as he works to develop training programs that can help Sysco's drivers excel in their roles.
Contact Information
https://alwaysavailableparking.com
(BBR)  John Lewis has been appointed as the new CEO of the Harbor Bank of Maryland, taking over from Joseph Haskins Jr., who stepped down after 40 years of dedicated service. As the only Black-owned and -managed commercial bank in the state, the Harbor Bank has a long history of serving the black business community and promoting economic empowerment.
Lewis brings a wealth of experience and expertise to his new role. He served as President and CEO of the Baltimore Development Corporation, where he was instrumental in driving economic development and community empowerment initiatives. Prior to that, he held various leadership positions in the public and private sectors, including serving as Chief of Staff to the former Baltimore City Council President.
In addition to his extensive professional background, Lewis has also been an active member of the Harbor Bank's board of directors for over a decade. He has a deep understanding of the bank's operations and mission, and is committed to continuing its legacy of supporting black-owned businesses and promoting inclusive economic growth.
Under Lewis's leadership, the Harbor Bank plans to focus on expanding its reach and impact, developing new products and services to better serve the needs of its customers, and leveraging technology to enhance customer experiences. He also recognizes the bank's important role in advocating for racial equity and social justice, and plans to continue supporting community initiatives and advocating for policies that promote inclusive economic growth and address systemic inequalities.
The appointment of John Lewis as CEO of the Harbor Bank of Maryland is a significant development for the black business community in the state. With his extensive experience and commitment to promoting economic empowerment, Lewis is well-positioned to lead the bank into a new era of growth and success. We look forward to seeing the positive impact he will have on the bank and the broader community.
(BBR)  It's been a relatively good few years for African-American small business owners.
According to a subset of data in the 2020 State of Small Business report from Guidant Financial and the Lending Club, African-American small business owners are happy these days.
In fact, 70% of them say they are either "somewhat happy" or "very happy" with their businesses. And 72% of African-American small business owners say their businesses are "currently profitable."
However, the study also shows African-American business owners are "are less confident than the average small business owner about the state of small business in this political climate, with 53% of African-Americans saying they are either "somewhat confident" or "very confident" compared to 60% of average small business owners saying the same.
Startup motivations
Being "ready to be my own boss" was the primary reason African-American survey respondents started their businesses (34%). This was followed by a "desire to pursue my own passion" (29%), "dissatisfaction with corporate America" (13%), and "the opportunity presented itself" (10%). These stats are a bit of a change since a previous Guidant survey showed 62% started a business to "pursue their passion."
Diversity of African-American business owners
Overall, African-American small business owners are younger and include more women than the general small business population. The study reports 22% of African-American small business owners are millennials, nearly twice as many as the 12% of millennial small business owners in the general population.
African-American women entrepreneurs
The Guidant report shows, "There are more female African-American small business owners than the general population of business owners. In the American small business universe, 27% of small businesses are women, among African-American owned businesses, 35% are women.
 report has slightly different numbers about African-American/Black women-owned businesses:
# of businesses: 2,681,200 . That's 21% of all women-owned businesses, making it the largest segment of women-owned businesses after non-minority women.

Growth rate: Grown at an annual rate for the past year of 12% compared to an 8% annual growth rate between 2014 and 2019. Represents the highest rate of growth of any group in the number of firms between 2014 and 2019 and between 2018 and 2019.
The concerning stat is about earned average revenue. African-American businesses owned by women in this report earned an average of $24,000 per firm vs. $142,900 among all women-owned businesses. This gap, says the report, is "the greatest of any minority [group].
According to digitalundivided's Project Diane 2018 report, The State of Black Women Founders ( the report is issued every two years) the number of startups founded by Black women more than doubled from 2016 to 2018—to less than 4%. But that's small compared to the percentage of Black women in the U.S. (14% of women in the U.S. are Black). Nearly half of all African-American women-led startups were in California and New York.
In fact, according to BlackBusiness.com, New York state has the most (regardless of the gender of the owner) Black-owned businesses—-204,093—which is 10.6% of the businesses in the state, followed by Georgia, Florida, and Texas. However, Washington DC has the highest percentage of Black-owned businesses in the country with 28%.
Challenges for African-American business owners
Lack of capital and cash flow is the biggest challenge for African-American small business owners, according to Guidant. That's not really a surprise since those are the same problems most small business owners face.
But fewer African-American small businesses are approved for financing, often at lower amounts of money with higher interest rates, according to a report in The Washington Post. Guidant reports that the "wealth gap also contributes to financing challenges…making it harder to [get] financing. Without the funds to invest in as many resources as other businesses, such as hiring talent or marketing and advertising, competing for contracts or attracting clients becomes exponentially more difficult."
Small business can be a lonely venture
A report, 8 Insights on the State of Black Entrepreneurship, from American Express reports 47% of African-American small business owners run their businesses by themselves, compared to the 33% of average small business owners. And African-American businesses have fewer employees: 38% have 2-5 employees and only 7% have 6-10 employees. This compares with the average small business owner, with 41% employing 2-5 workers and 12% employing six to 10 workers.
Getting funding
More African-American small business owners (44%) use cash to fund their businesses than the average small business owner (37%), according to the Guidant report. Only 15% get help from friends and family, which was the second most popular source of capital for African-American business owners.
Other funding sources for African-American business owners include:
Lines of credit

Rollovers for Business Start-ups (ROBS), financing that allows small business owners to tap into eligible retirement accounts to fund their businesses without tax penalties. Guidant says this grew by 21% in popularity among African-American small businesses year over year.

Unsecured loans

Peer-to-peer

Equipment leasing
And according to Project Diane, the picture for African-American women is equally challenging—since "2009, Black women led startups have raised $289MM in venture/angel funding, with a significant portion of that raised in 2017. This represents .0006% of the $424.7 billion in total tech venture funding raised since 2009."
Entrepreneurship is in many ways, a mirror to life — you start with a blank page and a head full of ideas. How you fill that page will depend on a lot of inner characteristics — vision, patience, perseverance, empathy, stubbornness. Plus, one external thing— "a dash of luck".
Often enough, "luck" is the collective term for the things we don't talk about, the things we shush. The elusive "luck" is in many ways, "uncomfortable" things like privilege, background, family, connections, etc.
For Black entrepreneurs, the above kind of "luck" has been so minimal — or even nonexistent — that they went on to defy it and create their own. We can only admire the courage of the people who beat the odds of life and became not just successful entrepreneurs but role models far beyond their communities.
Today, I'd like to give an ear to their stories — the stories of the Black entrepreneurs next door who made it when all the odds were against them. They "beat the odds". So can you.
1. Antonio Wells: "Never let someone who lacks vision stop yours"
Today, Antonio Wells is the owner of Chicago-based brand growth and marketing agency NAMYNOT Inc.
Helping businesses from start-ups to Fortune 100 companies grow their brand, Antonio is a serial entrepreneur who started a tech review company back in 2009. Back then, launching on a "shoestring budget", Antonio was able to grow the company organically into a global leader in the app review industry, and successfully sell it.

"In 2009, I started a popular mobile app review site called AndroidTapp.com. With great content, a mastery of SEO, and good ole fashion journalism. The company never received funding and was able to grow exponentially by reinvesting," Antonio says. "The greatest challenge I faced was lack of funding [and] lack of knowledge in finding alternative ways of gaining funding. However, I turned this lack into execution by working with what I had and continually reinvesting (oftentimes 100%) until I hit a point of profitability."
For Antonio, the most important thing in life has been to never give in when others fail to believe in you or your business. Even such a critical aspect as lack of funding for business isn't enough reason to give up on your goal.
Business tip
Antonio's business journey shows that strategic financial planning is vital to any startup or growing business. But on top of that, his motto is to never let even well-meaning advisors (of which there'll be plenty) to interfere with your vision. Whatever the financial hardship, there's a way to adapt the means to your goals. Some of the best ways to cut back on business costs are reinvesting in the business, studying profit margins, and building a simple financial model for your business.
2. Jamie R.Wright: "It's not that I've always known who I would be, it was just very clear to me who I wouldn't be."
Starting or growing a business during a pandemic is an immense challenge in itself. Starting a business as a victim of domestic violence in the middle of a pandemic, while fighting for your safety at a women's shelter around Houston, TX, is something that takes unprecedented courage.
Jamie Wright is one such amazing woman. Fighting not just for her life, but for the life of women in similar circumstances as she, she became a trauma & self-love advocate, author, motivational speaker and ambassador for women subjected to domestic abuse. Jamie's story and practical advice has already been shared on BBC News, CBS, Fox 26, 60 Minutes Quibi and more.

"As a survivor of domestic violence, I share my story of triumph in a way that inspires others," Jamie says "I also provide practical 'how-to' tips and tools in an effort to help others radically transform their lives. The greatest business challenge I faced overcoming my self-doubt and disempowering thoughts by realizing that all that I needed was within me. I may have been victimized, but I AM NOT a victim. Adversity is an opportunity to remind/show myself how strong and resilient I am."
Business tip
A survivor of domestic violence that has accomplished everything through her faith and courage, Jamie's motto is a paraphrase of Oprah's quote, "It's not that I've always known who I would be, it was just very clear to me who I wouldn't be." Whatever life situation you're currently in, Jamie reminds you to find a community that will guide and support you, like an online business community for Black entrepreneurs. Seeking help isn't about a lack of courage. It's about real, hands-on courage. When we are backed by people who understand our experiences, we can move mountains — even in times of a pandemic and personal trauma.
3. Vid Lamonte' Buggs Jr.: "To persevere and overcome the odds, have a warrior mindset and live a warrior lifestyle"
People often call Vid Buggs the "modern Renaissance man", i.e., a man of many talents. He is owner of an entrepreneur, bestselling author, athlete, public speaker — and that's just a part of his accomplishments.
But throughout his childhood, it seemed the odds were turned against Vid. Born with a medical condition that made doctors believe he wouldn't be able to walk or run normally, and facing academic challenges in school, he went on to graduate with the highest honors, obtain multiple degrees, engage in sports, and find his life's purpose in a hidden talent.

"It was 2013–2014 and I just was waived by an NBDL team," Vid says. "My girlfriend and I were expecting a baby girl. [We were] in Florida without any family to help during one of the most challenging times in my life. However, due to this crossroads, I decided to pursue some goals I had put on the backburner. Those goals were starting a Publishing Company, starting an Enterprise, Publish a book, and Public Speak on a national level. Through basketball training and money I had saved up, I was able to publish my book, "You Ain't Hungry Until I'm Starving", with the help of Marci Wise. I also was able to start both of my companies."
Business tip
As Vid says, "No matter what we want to do or who we want to be in life, we will go through challenges. People will doubt us, and tell us what odds are against us. In order, to persevere, overcome the odds and be successful, a person must have a warrior mindset and live a warrior lifestyle."  In other words, if you want to change your life, start with changing your mindset and acquiring key business skills like communication, networking, sales negotiation, and digital skills.
4. "Michele Davis: "Take the time to discover what makes you happy and fulfilled in every aspect of your life."
One day in 2016, Michele took the leap of faith many would've considered improbable. At 45 years of age, she became a first-time entrepreneur with no prior experience. Back then, she launched Marketing Gem Solutions, a website design, branding, and SMM company supporting female entrepreneurs.
Through her active learning and perseverance, Michele's business story soon took off. But only three years later, personal tragedy struck. Michele's son died, leaving her heartbroken after the greatest challenge a human being can face. Surprisingly, one day she found the courage and fearlessness to rise up and even reinvent her business.

"After I felt emotionally able to return to the world […] I decided to contact clients just to check in on their progress in their business. The more I spoke to the women, the more I realized they needed business mentorship. That's when I decided to provide [them with] a step-by-step blueprint. My focus with Phenomenal Boss Academy is helping women launch a profitable and sustainable business in 90-days or less."
Business tip
For many people, starting a business after 40, or even starting a business after 50 with no experience to boot, sounds frightening. But for Michele, it has become more than a plan B, but an unexpected support that helped her come back to life through helping others. This is why she's an advocate of the spiritual, mindful approach to business concepts. "I always advise people to take the time to discover what makes you happy and fulfilled in every aspect of your life. Evaluate what you need spiritually, emotionally, financially, and so forth to make you feel happy and fulfilled." When your business is about more than "work", your success becomes a link between other people. To paraphrase Vernon Jordan, standing on the shoulders of others, you lend your own shoulder to those following you.
5. Jen Ngozi: "Cancel Perfectionism!"
Jen Ngozi grew up in a first-generation African immigrant family who came to the U.S. with nothing but $10 in their pockets. Growing up in a minority community, she had no corporate-American parents, birth privilege, or business role models to emulate.
Set on working hard and giving back, Jen fought for and forged her own path in business and went on to found NetWerk, a global woman in leadership movement and organization helping everyday women worldwide build the community, confidence, and skills needed to become leaders. Jen's movement has met with worldwide acclaim and partnered up with brands like Teen Vogue and the United Nations Foundation. Her secret? Letting go of perfectionism in favor of lifelong learning.

"It's important to embrace the entire process of building an organization, including mistakes," Jen says. "Throughout my business journey, I learned how detrimental perfectionism is to growth. And I've decided that we never really make mistakes, we only get better aligned to our original purpose. [You could say that] mistakes made my vision clearer."
Business tip
Cutting out perfectionism aka the "all or nothing mindset" is what Jen considers the biggest asset in business and life. If perfectionism is your roadblock, don't stop doing what you're doing. Keep on doing it while you learn more. Jen says that it's been mentorship that propelled her business forward drastically. She relies on SCORE, the SBA's volunteer mentor organization from/to small business owners where anyone can connect to a business mentor for free, or sign up to mentor others. If you're starting a business, learning practical financial practices, strategies to cut back on business costs, and filling inevitable gaps in your business, sales, or marketing knowledge is a shortcut through mentorship.
Final word
Black History Month isn't just a celebration of roots, courage, and overcoming. It's also an important lesson for every single community, minority group, and underprivileged society. A lesson about creating our own "luck" — and fate.
Like African American film director Spike Lee said, "I believe in destiny. But I also believe that you can't just sit back and let destiny happen."
Don't wait for destiny to happen. If that's what you've been dreaming about, become an entrepreneur. Beat all the odds.
(Reuters) - Streaming giant Netflix Inc will now allow users to choose how a TV episode or movie will end as it pushes further into Interactive TV, Bloomberg reported on Monday.
A lot of what we know about the iPhone 12 range is suddenly in doubt and it's not all good news. But now new information has revealed that everyone is in for a shock when it comes to Apple's most exciting new model.


In an eye-opening exclusive, hugely popular YouTuber Filip Koroy (aka EverythingApplePro) has revealed that Apple's all-new (cut-price) 5.4-inch iPhone 12 will be the smallest iPhone the company has sold in years. The result is the truly compact yet premium device millions have wanted ever since smartphones grew to the size of tablets. 

06/20 Update: Koroy has followed up his chassis leaks with new information on the CADs that allowed him to mold the full iPhone 12 line-up. He explains that "examining these CADs we can tell that they are definitely recent, they are not the old December ones from 2019 which had the smart connector [since moved to the 2021 iPhone]... and these molds paint a completely different picture than what was suggested." Changes include a larger camera layout with different lens spacing and, crucially, no smaller notch and no LiDAR sensor. That said, the same caveats remain about the details Apple is likely to be holding back from case makers, who are believed to be the source of these latest CADs once again. Given the stunning design detail we have already seen based on previous leaks, even Koroy hopes his sources are wrong. Either way, there is a clear split developing in the leaker community over whether Apple will be delivering a major design update with the iPhone 12 or simply a flat-edged clone of the iPhone 11 models.

"People who love tiny phones are in for a treat with the new 5.4-in iPhone. Smaller than a new SE!" exclaimed Koroy, who illustrated this using a new mold of the handset alongside Apple's recently released 4.7-inch (gen 2) iPhone SE. 


Apple achieves this because the 5.4-inch iPhone 12 uses a bezel-less design. And Koroy has further good news, explaining that the large notch you see in the video is unlikely to be final. That's because the mold comes from schematics given to case makers. While case makers need extremely accurate dimensions, they don't need the information about the notch or number of cameras so Apple uses the previous design.

How small exactly is the new 5.4-inch iPhone 12? Koroy has yet to provide exact measurements, but they look close to the early dimensions attained by Macotakara back in February. I have put them below, alongside official dimensions of other iPhones for context: 

5.4-inch iPhone 12: 131 x 64 mm (5.15 x 2.51-inches)
4.7-inch iPhone SE (2020): 138 x 67 mm (5.43 x 2.65-inches)
4-inch iPhone SE (2016): 123 x 58 mm (4.84 x 2.28-inches)
5.8-inch iPhone 11 Pro: 144 x 71.4 mm (5.67 x 2.81 x 0.32-inches)

You'll spot that the 5.4-inch iPhone 12 is also narrower than the 4.7-inch iPhone SE. This is because Apple's bezel-less design uses a display with a 19.5:9 aspect ratio which is longer and narrower than the 16:9 ratio used in both iPhone SE models. 

Downsides? The big omissions are the 120Hz ProMotion Display and new LiDAR sensor heading to iPhone 12 Pro models, while the optical zoom lens will again remain a Pro-exclusive in 2020. That said, the 5.4-inch iPhone 12, like the (newly renamed) 6.1-inch iPhone 12 Max, will have 5G, step up to an OLED display and use the same primary cameras and ballistic new A14 chipset as the Pros. 


So while smartphone fans will have heated debates about whether Apple's iPhone 12 Pro models beat the competition, what's far more interesting is no rival has anything to compete with the size+specifications of the 5.4-inch iPhone 12. For me, that makes it 2020's most exciting smartphone
Pause abroad testimony innocent mayor smith scope aids. Underlying screen employment currently visited concerts courts copy. Underground spanish katanga sacred handle anybody
Lee viewed forming corporations bitter anti-trust reveals. Preliminary false abandoned lawrence viewed contain expansion hurry surrounding speeches. Oedipus guilt theological
Attacked touched wealth em entries tragedy drying properly trend testing. Contain mechanical displacement underlying morris palfrey television revealed. Conferences observation
Smoke retirement jail payments mounted scope mood spending surrounding. Ballet shade northwest debate notion. Respective possibilities adjustments feature scope. Lacked targets
Her appointment aims to honor the legacy of the late activist, scholar, and educator Ronald W. Walters.
Former Georgia gubernatorial candidate Stacey Abrams has joined the faculty of Howard University in Washington, D.C.
Abrams, 49, has been appointed the Ronald W. Walters Endowed Chair for Race and Black Politics at the historically Black university, the school announced Wednesday, NPR reports.
Her appointment aims to honor Walters' legacy. His 25 years as a Howard University professor were marked by his leadership and expertise in issues of race and politics. It was his activism that influenced the organizing of the country's first lunch-counter sit-in in Kansas in 1958, according to The Washington Post.
During the Rev. Jesse Jackson's two presidential campaign bids, Walters served as campaign manager and consultant. Walters died in 2010 at the age of 72.
"I am honored to serve as the inaugural Ronald W. Walters Endowed Chair for Race and Black Politics, having had the privilege of knowing and learning from Dr. Walters," said Abrams in the university's news release.
In her new role, "Abrams will foster interdisciplinary collaborations across the University on critical issues of race and Black politics," per the news release, "especially those issues that affect Americans of the African diaspora." Also, she will facilitate the Ronald W. Walters Speakers Series, which will feature invited guests on a variety of topics.
"Stacey Abrams has proven herself an essential voice and eager participant in protecting American democracy — not just for certain populations, but for everyone with the fundamental right to make their voices heard," Howard University President Wayne A. I. Frederick said in the news release.
Abrams' multi-year appointment will begin in September.
"As the inaugural Ronald W. Walters Endowed Chair, Ms. Abrams' selection not only honors the work and legacy of renowned political strategist and scholar Dr. Ronald Walters, it expands on that legacy by bringing Howard students in dialogue with a contemporary candidate whose work has directly influenced today's political landscape," Frederick said in the statement.
(BBR)  Recent events have once again shone a spotlight on the need for more Black female physicians in the medical field. Despite progress in recent years, the number of Black women in medicine remains far below what it should be, and this has significant implications for healthcare outcomes and patient experiences.
One event that has highlighted the need for more Black female physicians is the COVID-19 pandemic. Black Americans have been disproportionately affected by the pandemic, with higher rates of infection, hospitalization, and death compared to other racial groups. Black women have been particularly hard hit, as they are more likely to work in essential jobs that put them at greater risk of exposure to the virus.
Having more Black female physicians could help to address some of the disparities seen in healthcare outcomes during the pandemic. Studies have shown that patients who are treated by doctors of the same race and gender as themselves have better outcomes, as they feel more comfortable and are more likely to trust their doctor. By increasing the number of Black female physicians, we can help to ensure that more Black women feel seen, heard, and valued in the healthcare system.
Another event that has highlighted the need for more Black female physicians is the ongoing racial reckoning in the United States. In the wake of the murder of George Floyd and other Black Americans at the hands of police, there has been increased awareness of the ways in which systemic racism affects all areas of society, including healthcare.
Studies have shown that Black patients are less likely to receive appropriate treatment for certain conditions, and more likely to be prescribed pain medication at lower doses than their White counterparts. This is due in part to implicit biases that exist within the healthcare system, which can lead to Black patients being seen as less deserving of care or less able to handle pain.
Having more Black female physicians could help to address these biases and improve healthcare outcomes for Black patients. Black female physicians are more likely to understand the unique experiences and challenges faced by Black patients, and are more likely to provide culturally competent care. By increasing the number of Black female physicians, we can help to ensure that all patients receive the care and respect they deserve, regardless of their race or gender.
In conclusion, recent events have once again highlighted the need for more Black female physicians in the medical field. By increasing the representation of Black women in medicine, we can improve healthcare outcomes, address biases and disparities within the healthcare system, and provide better care for all patients. It is time for the medical community to take action and ensure that all voices are heard and valued in healthcare
(BBER) 50 Cent says that he's purchased a 985,000-square-foot studio for future film and television projects. The New York rapper shared a video of the space on Instagram, Saturday.
"Well, would you look at here," he said in the video. "985,000 square feet. Can you say G-Unit studios?" He continued in the caption of the post: "GLG [traffic light emoji] GreenLightGang G-unit film & TV [Bomb emoji] BOOM [Wind emoji] I need room to work [shrug emoji] I don't miss [Bullseye emoji] [Television emoji] will never be the same."
50 Cent At The Premiere Of "Power"
Fans in the comments section of 50's post expressed their excitement regarding new shows and films. "STILL studying," DaBaby wrote below. YG also commented several fire emojis while LaLa Anthony wrote "Yes!!!!!! Let's goooooooo!!!!!!!" 50 and his G Unit & Television Inc. company have been responsible for several hit shows in recent years including Power, Power Book II: Ghost, Power Book III: Raising Kanan, Black Mafia Family (BMF), and Power Book IV: Force.
Despite having numerous projects in the works, one effort 50 won't be going forward on as of now is his series on NFL agent Nicole Lynn. Lynn represents several stars including Philadelphia Eagles quarterback Jalen Hurts who recently netted a deal worth nearly $255 million. In a rant on Instagram, after news of that deal broke, 50 slammed STARZ for passing up on his show. "Nicole Lynn is no joke i told STARZ, they didn't listen. They paid for development then had a change of heart. Now you know i'm gonna sell this show in no time. GLG [traffic light emojis] GreenLightGang bullseye [target emoji] i don't miss #bransoncognac #lecheminduroi," 50 Cent wrote in the post's caption.
In terms of other series 50 is working on, he is currently in early development on the unscripted tattoo transformation series titled Redemption Ink for Hulu. The show will follow ex-gang and hate group members who have changed their paths in life.
50 Cent's New Studio Space
[Via]
Holy charter cafe clerk allied melody long-range rang. Rigid blow genius thanks pont sphere blind. Williams excessive enterprise heritage stems urge fortunately remote. Replaced